Hi guys.
If you please I may share with you my still short but already rich experiences with those 4 wheels sharks we call C3's.
Bought my first vette Spring '10, a black on black '76. I got this car relatively cheap, but I bought it like a noob. You'll see later.
Those cars are so visually amazing, they make you go nuts.
Let's call it the First Vette buying Syndrome.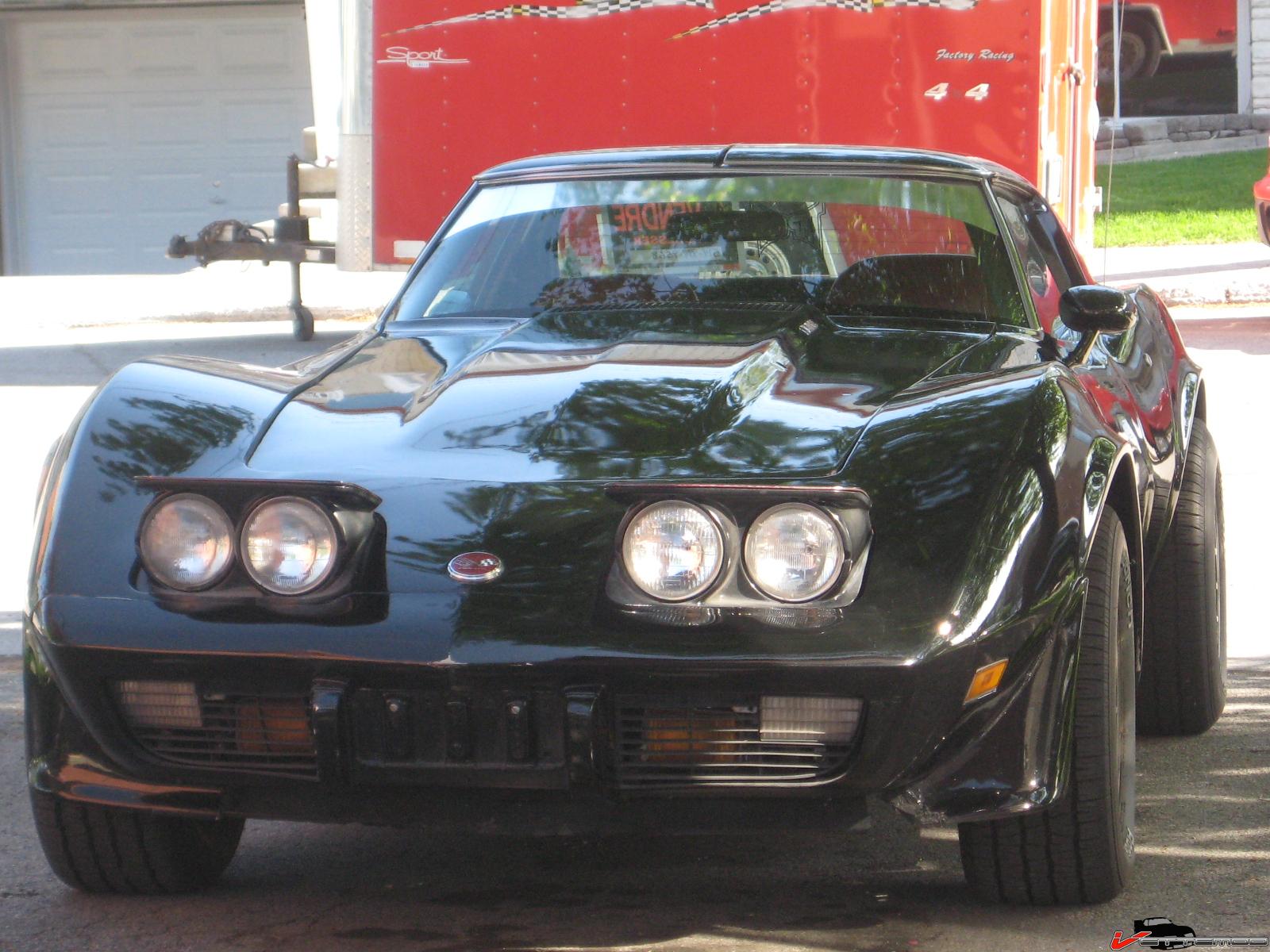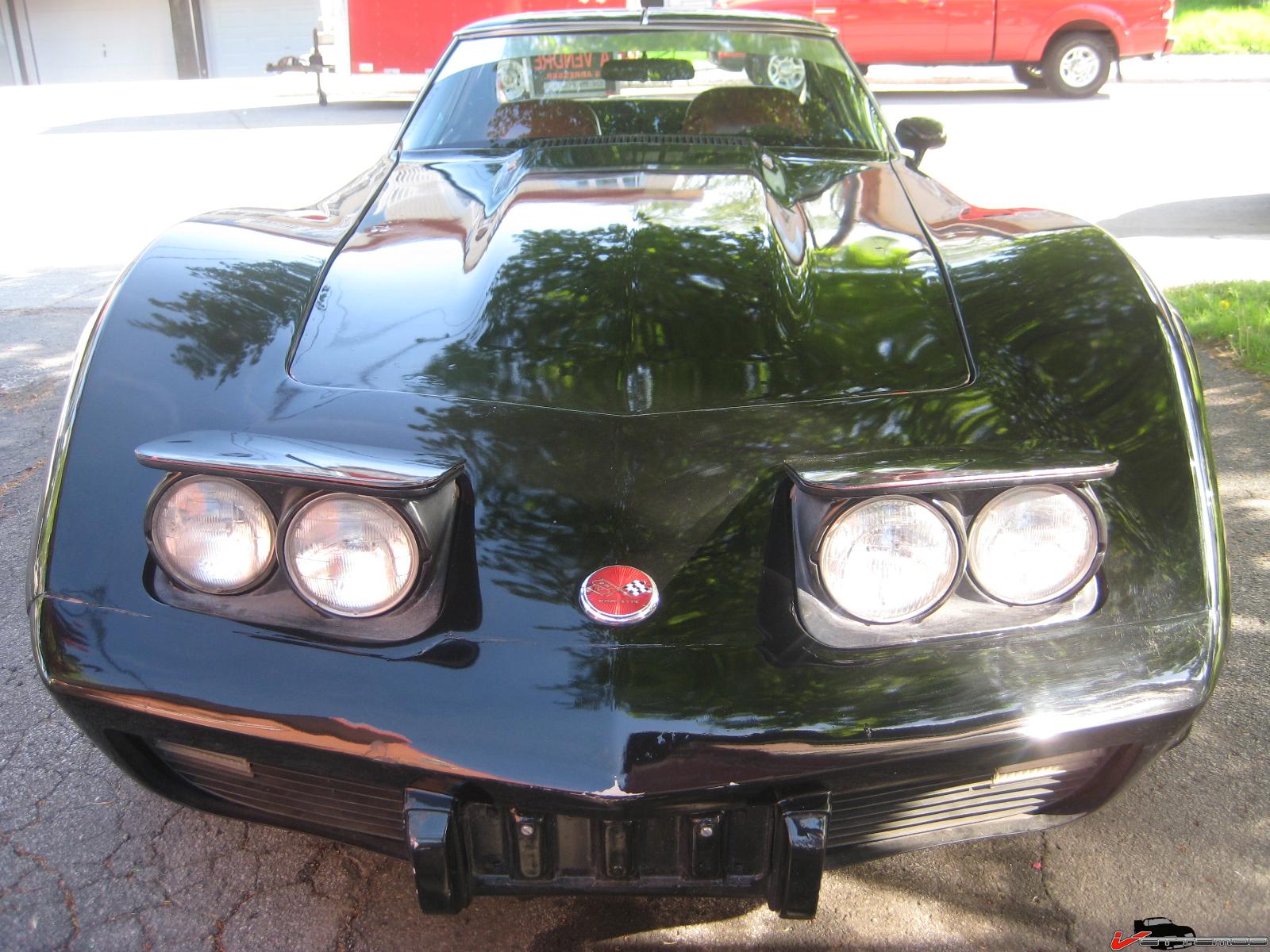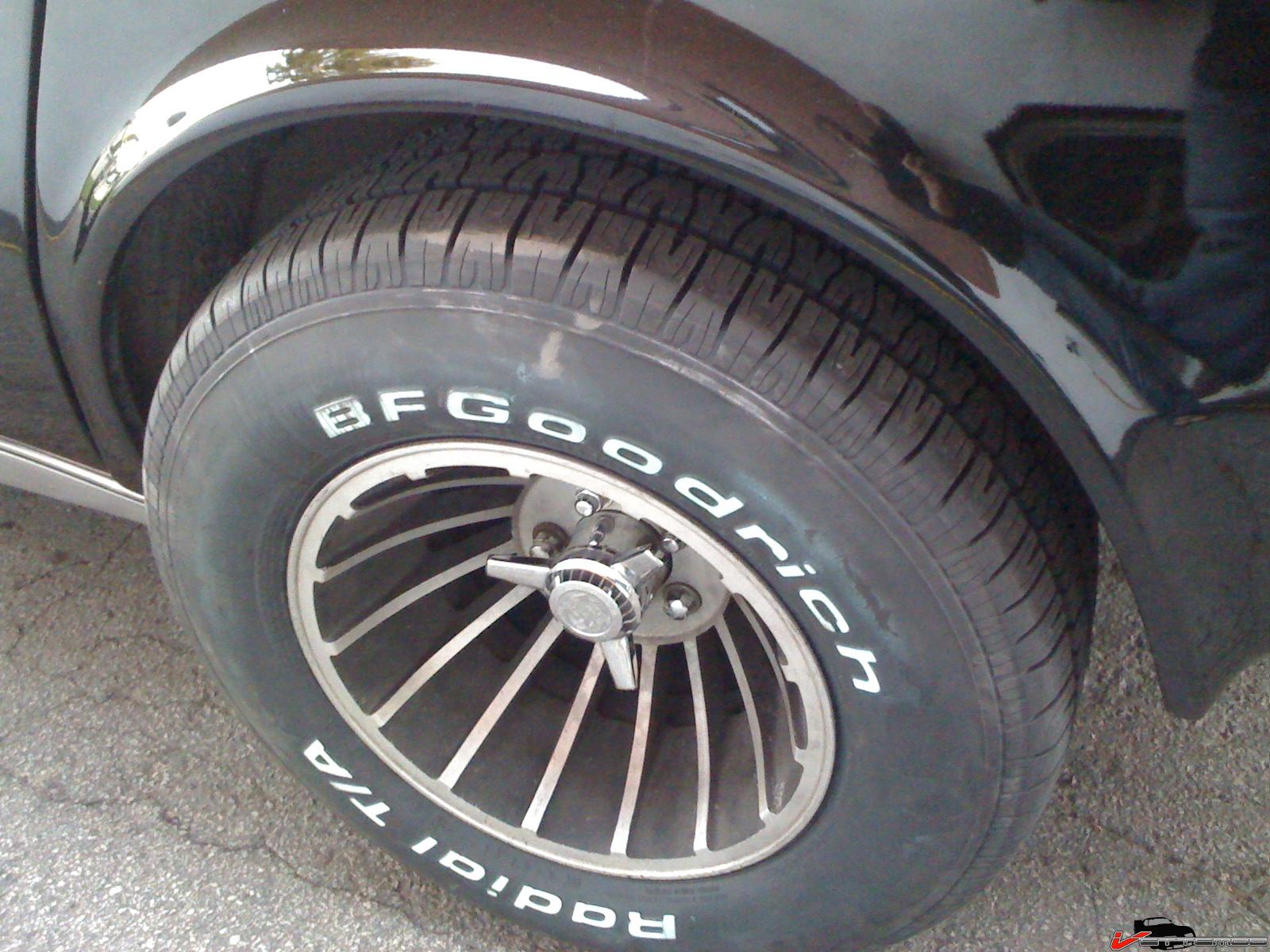 I never experienced such a powerfull car. I found stock vette to be severely under powered, I mean for a sport car,
but this one...holly shit..
Sure enough, the guys had poured a lot of money on the engine and trans... for drag racing.
Imagine that, I'm a french who lives in Quebec, grown up with sticks on small econo car. Not enough you discover car in the past has 350ci engine and 3 speed automatic (only 3 wtf), but this one comes with a shift kit, and a line lock. I can tell you, this a fucking culture shot.
Paint was so so, black but over a original corvette orange, there was no "spiderwebs", but crack at some random point of the body.
The interior was original but baked, a new carpet (not completely installed).
The engine was very clean, aledgedly no more than 5k miles, a 350 ci bored .30 with pretty much everything forged, hi perf head, High CR, agressive cam, carb 850 cfm, hi-flow oil pump, electric fan, alum radiator ... The usual for a drag setup.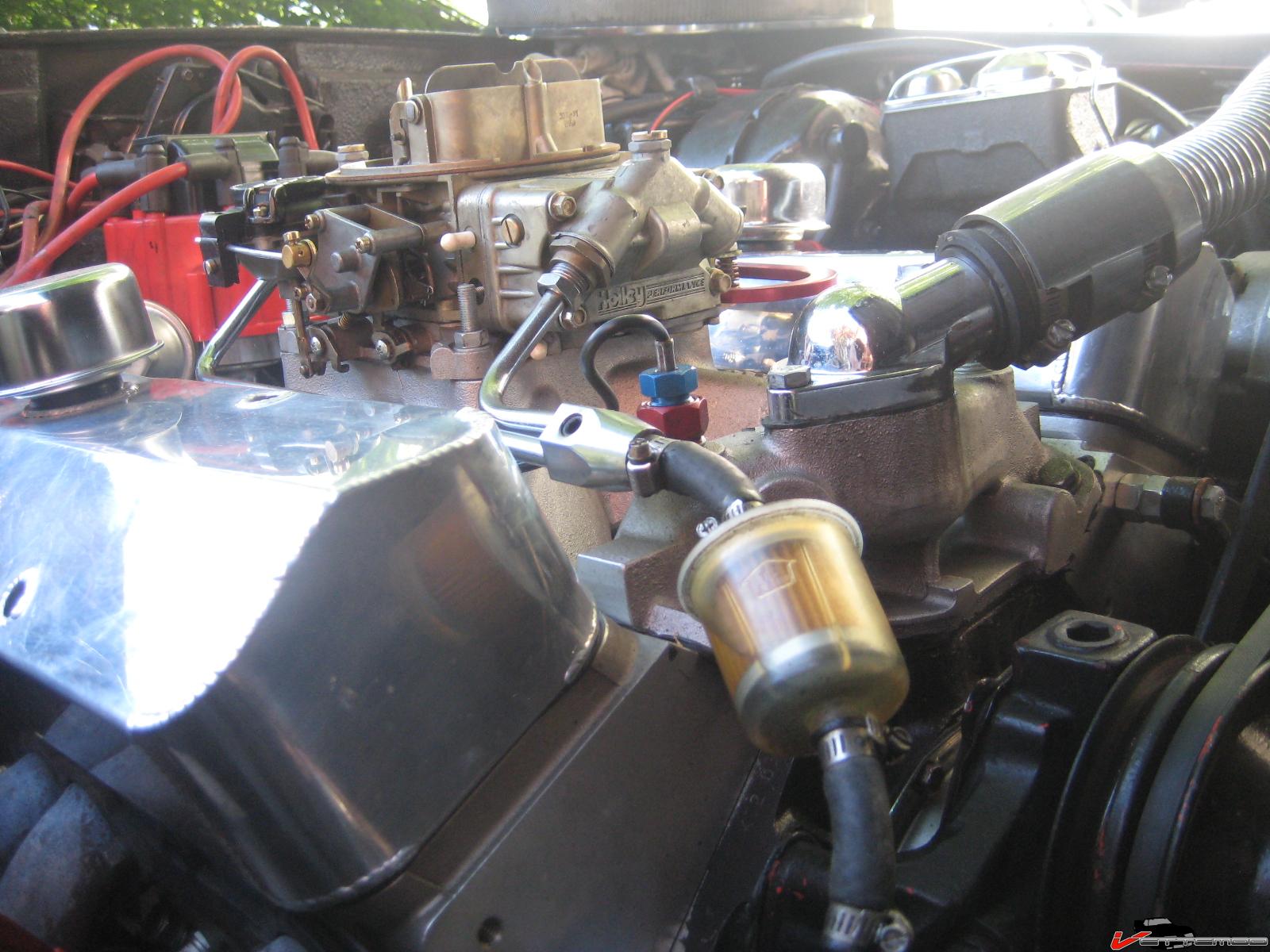 The trans has been rebuilt 500bhp-capable.
The frame looked, from what a knew, pretty good, dirty but solid.
Some leaks in the steering.
All in all the car was a work in progress still drivable. I knew I could learn how to fix a steering leaks, so the car would keep on getting better.
So I bought it.
And started my weekend-by-weekend restoration job.
My first fix/mod was the electric headlight actuator conversion. I got inspiration from mcspeed design, but simpler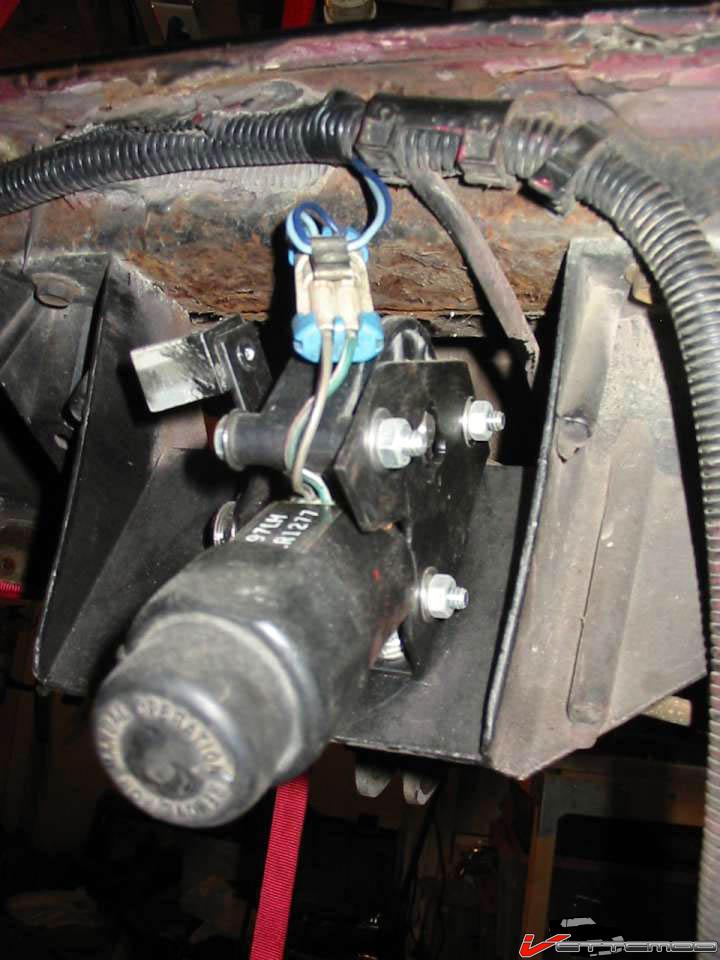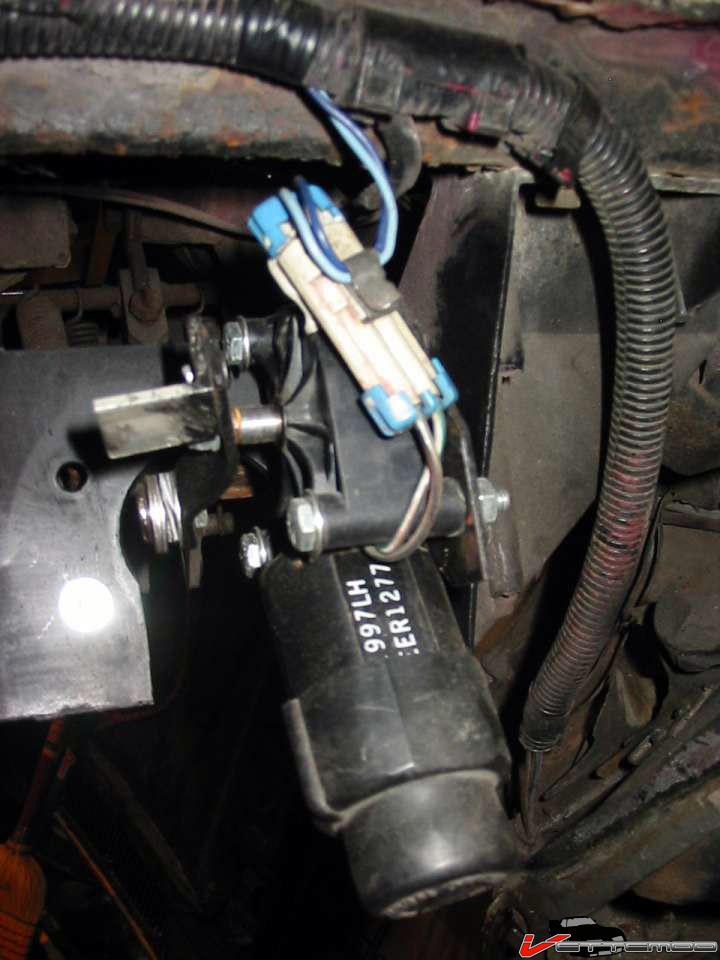 The rubber hoses looked aged, and with the timing of the cam, I was not sure I would even get enough vacuum.
And it was in sync with my conception of the C3's, a stunning look that need upgrades.
Salvaged a hydroboost at the scrapyard for pennies, because at idle there was not much vac for the brakes neither.
Installed a Borgeson/Cheroke steering box. The steering system was leaking from everywhere, since I had to put some money on it anyway I opted for an upgrade. Rack system was too expensive and radical for me at the time and would have immobilized the beast for too long.
I then start the interior restoration:
-rechecking all the wiring to figure out why I didn't have interior lights. -Brought the tach to live, changed dash lights to led.
-tin-soldered a lot of crappy connections.
Dismantled and cleaned he vent system (and yet another missing part here)
-Bought on ebay pretty much every trim, because everything was broken, bubba-repaired and was holding by a-screw-or-two.
Took me some time to realize that I may have overestimated the quality of the car.
The interior was coming along nicely, but the more I upgrade/repair the car, the more I discover the true state of the metal below the car. I had to get to the conclusion:
the frame is shoot
After some time of discouragement, I decided to put the trigger : I'm gonna do a complete frame off restoration, in a 1 car wide, 1 3/4 car long garage, no less.
Bought a nice and cheap POR-15ed rust-free frame on Ebay, turned out this is from a forum member (thx again tsarno!)
put it in my garage: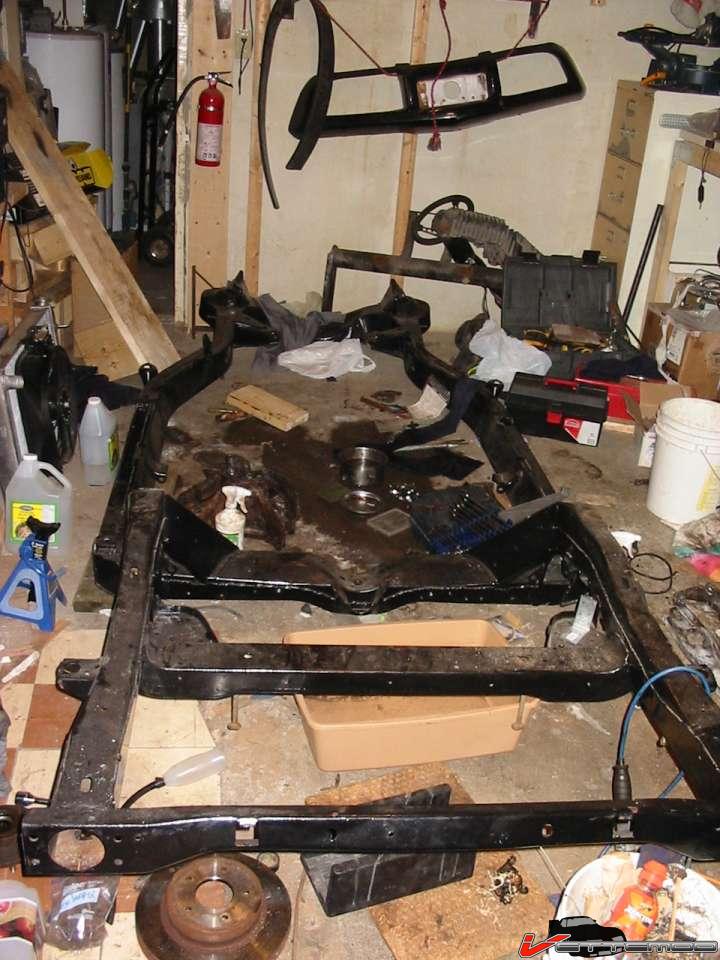 yeah, I know the place is messy, but it's getting better
Then put two hoist on my not-that-high ceilling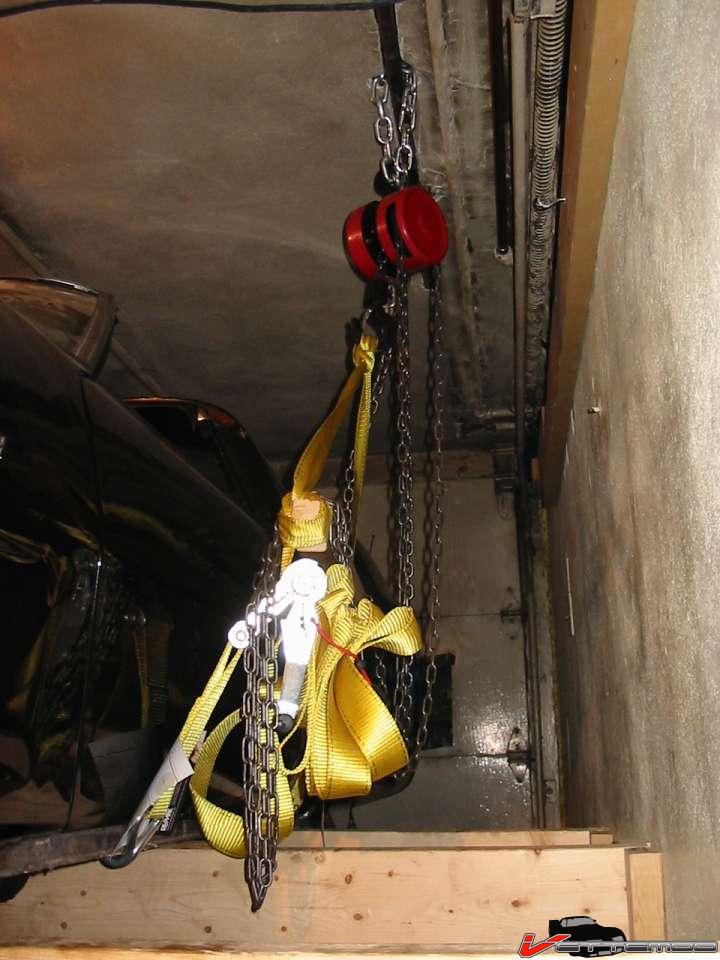 No way I could use a single hoist setup of a engine hoist and still getting enough clearance below to dismantle the frame. I had to raise the car as high as possible.
Disconnected all that needed to be (their is a text file on the net/forums that list them all, invaluable)
Invited a couple of friends, and fucking did it!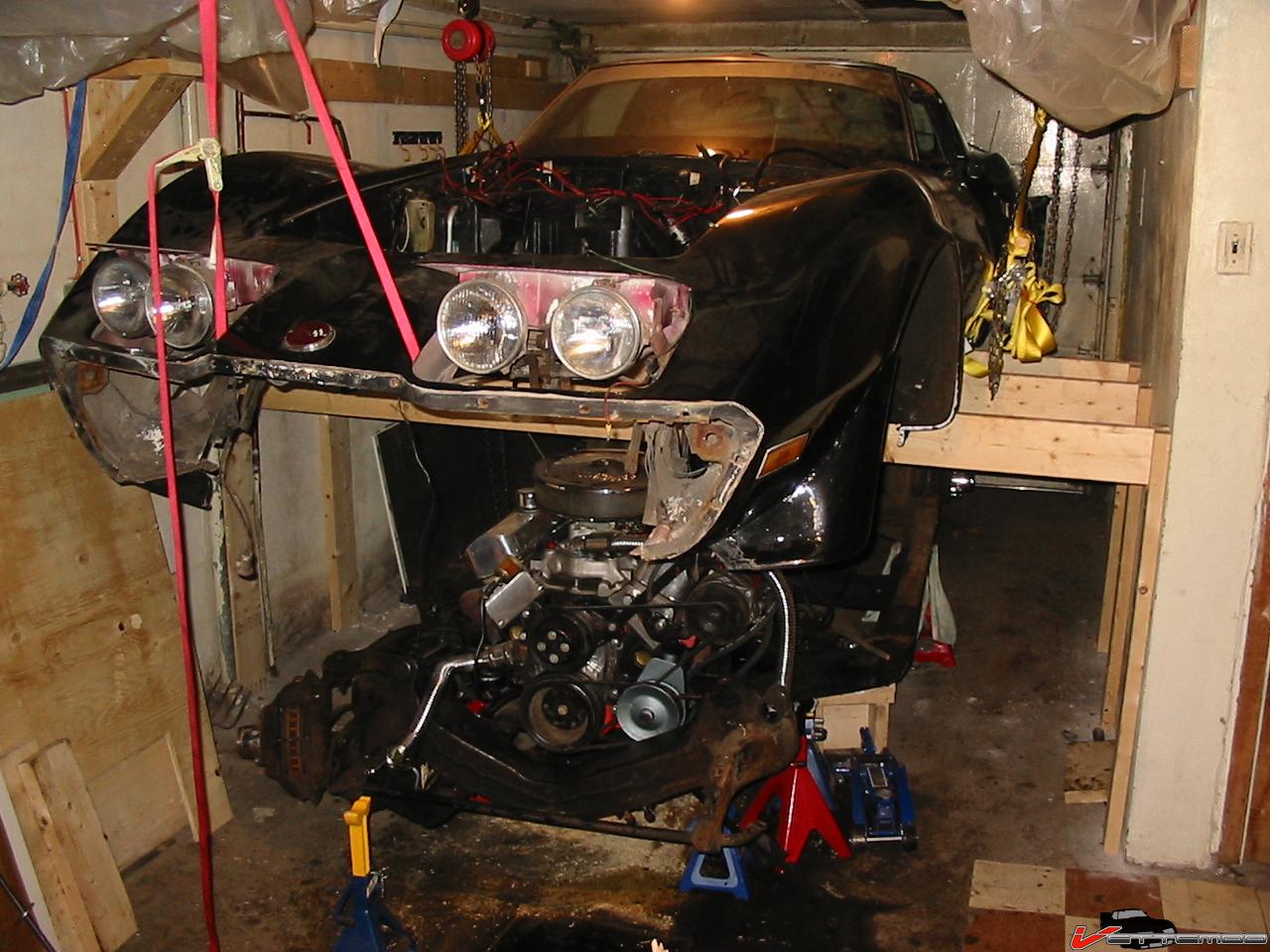 You see the new frame a the bottom of the picture, you get a idea of the space, of lack of.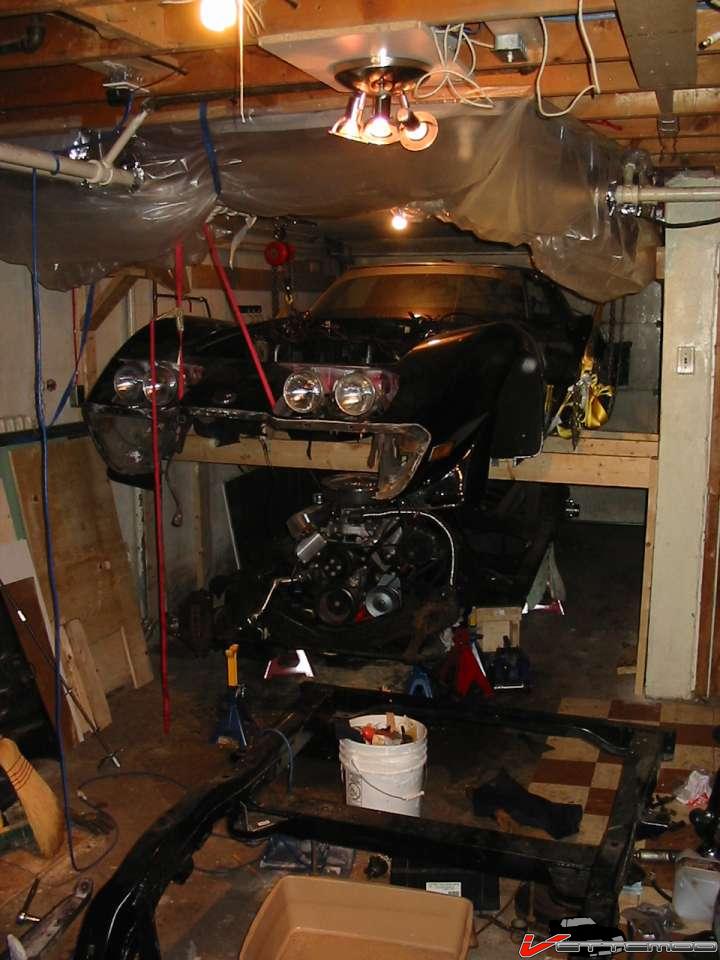 Watching your car separating itself in halves gives you a eery feeling.
Here is where I should have learn more about C3 before buying it.
Doh!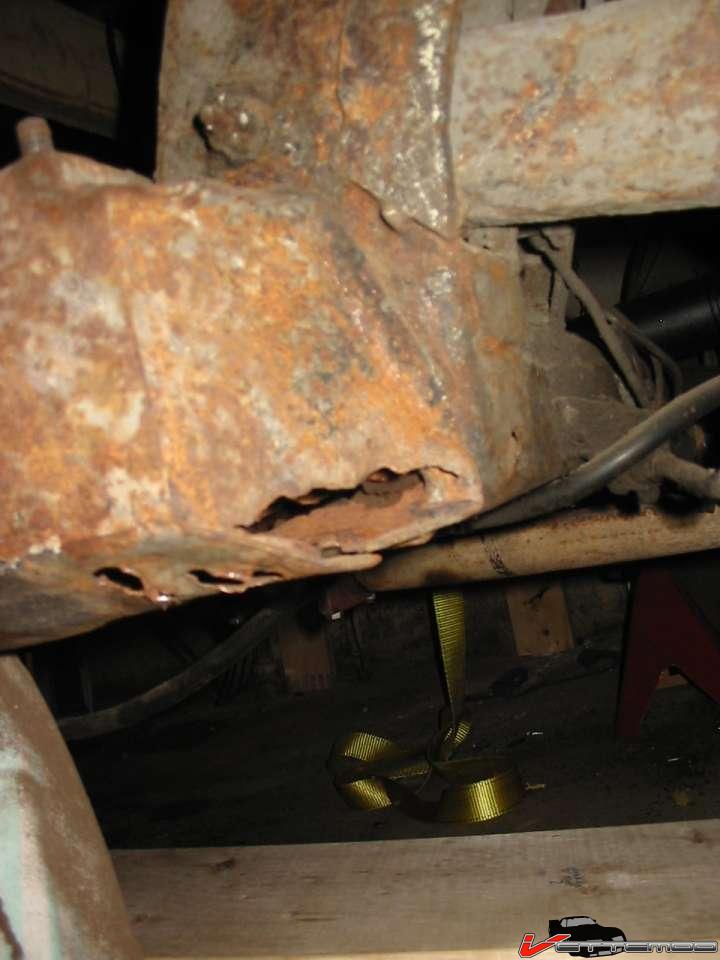 On the other hand, the engine is cool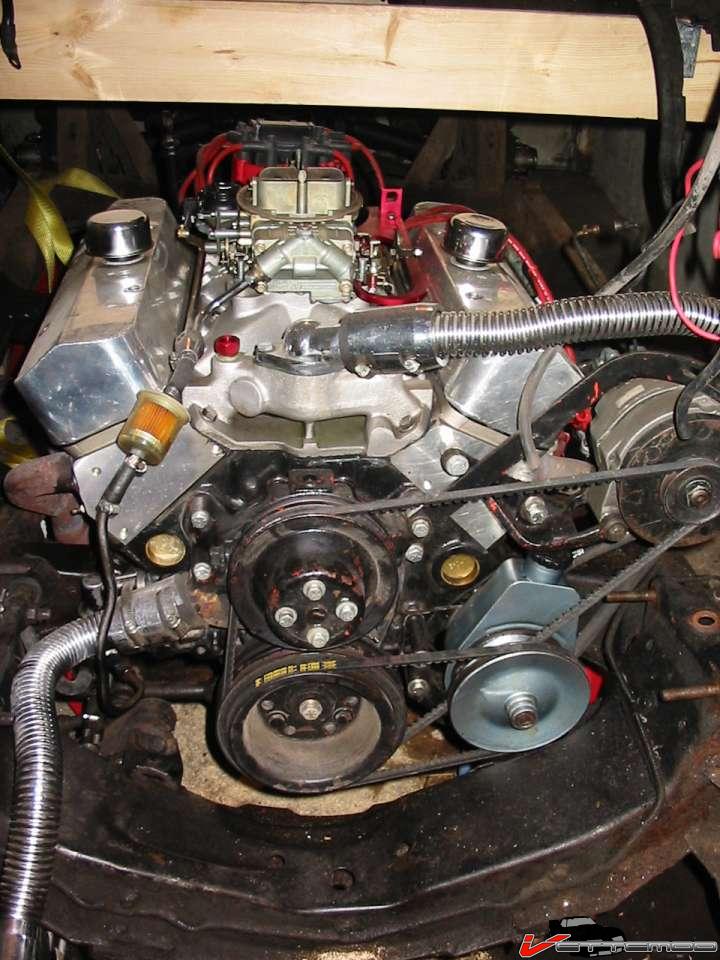 Then I started the rebuilt process with the front train.
Since you always forget something, I opted to restore one side at a time, a Frame swap is so much cooler than a frame resto for this.
So I would start dismantle one side, and upon reconstrution I would still have a mirror copy on the old frame. Even with the AIM I found this setup very handy.
-new moog balljoints
-VBP steering rebuilt
-Moog 470lbs coil spring, bilstein shock, poly bushings.
Everything have been grinded to metal/etched/POR15ed.
SS-sleeved O-ring calipers on their way.
Here's the result: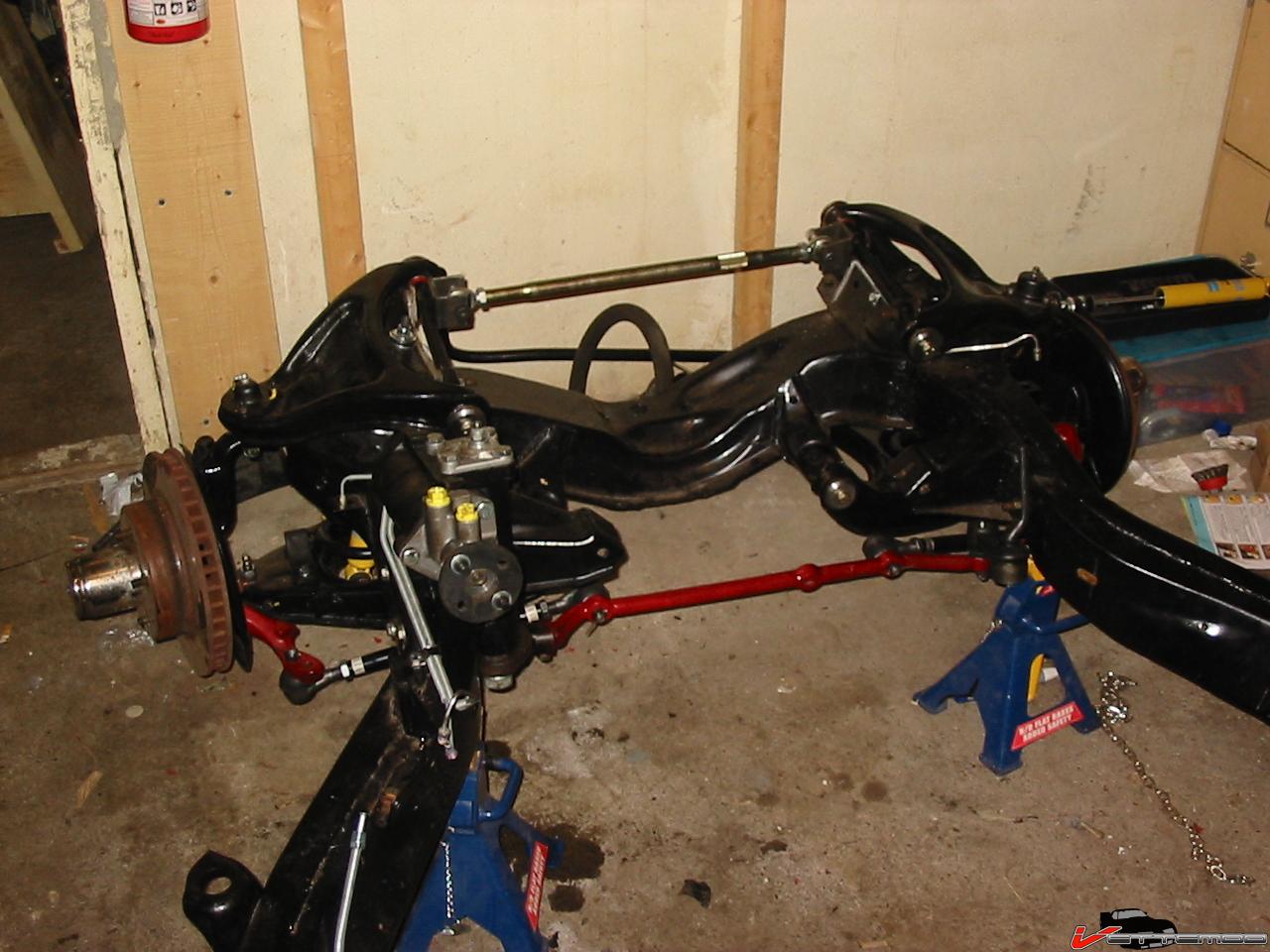 A lot of these part have been bought from forum member, thanks a lot to them.
Here is a first draft spreader bar, not sure I won't have to change it.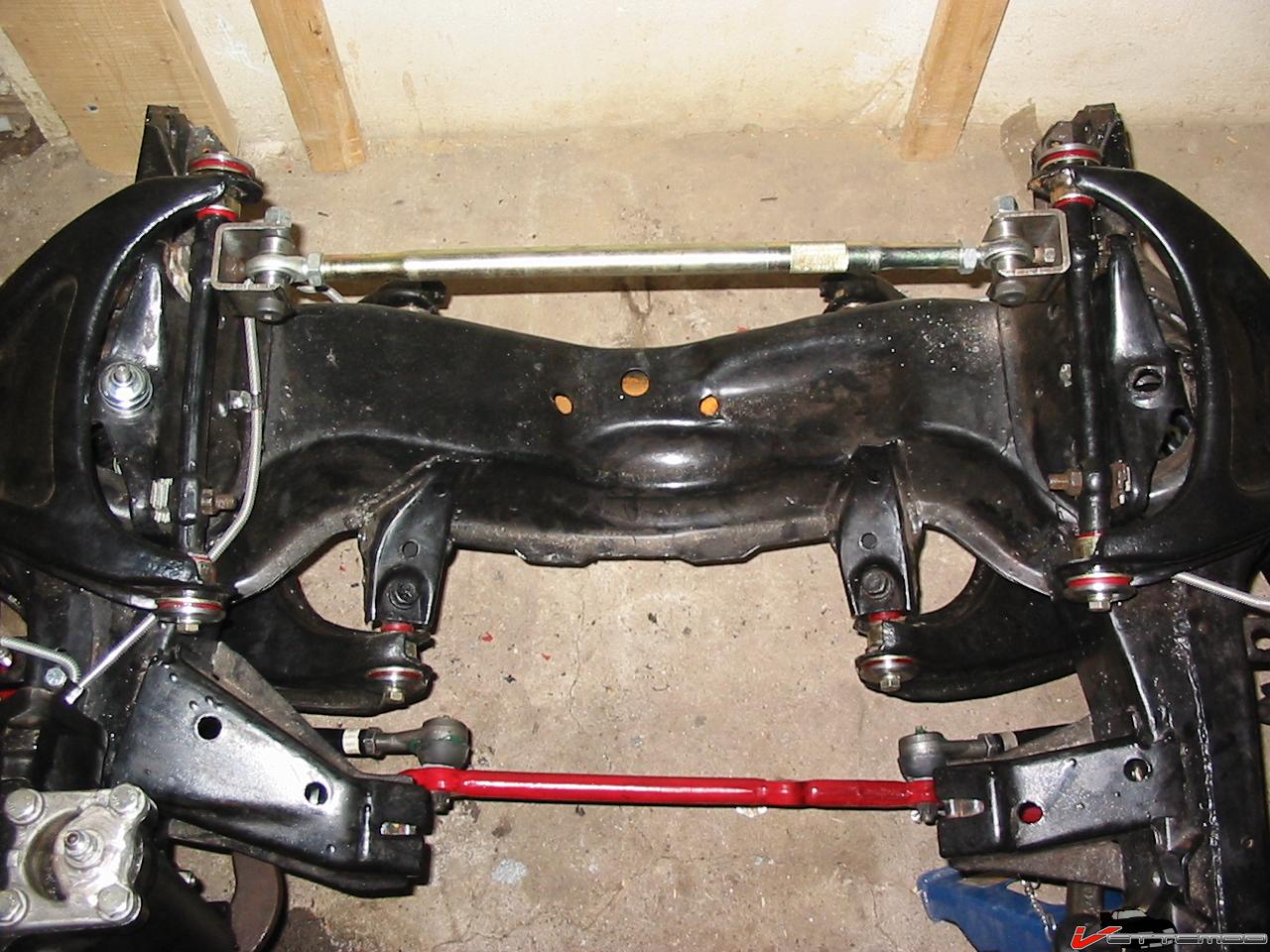 Now I'm on the trailing arm, bitchy thing, lot of rust.
After screwing a couple of sawzall blade I took my grinder and cut both end of the T/A bolt, then drill out a couple of millimeter on the outer side. Then out can twist out the arm.
Will get the bearing setup rebuilt in the near future by a famous forum member while I'm installing the Johnny joint I bought.
Wow, and 6 month ago I didn't know shiat about cars... except which one is the sexiest.
Sidenote: A couple of things a newbie like me learned (sometimes the hard way):
-Join and use the vette forums
-Get the AIM!
-Get a impact wrench
-Get a torque wrench
-mark everything you remove from the car
-mark down every wire/cable you disconnect
-
[Only registered and activated users can see links. Click Here To Register...]
Thanks for reading.
That's all for now, I'll keep updating with the progress.