| | |
| --- | --- |
| 69427 | 05-23-2014 07:33 PM |
---
Fire extinguisher quick disconnect latch?

I'm thinking on TIG'ing up an aluminum bracket to bolt in an additional small fire extinguisher for track days. I have a "permanent" extinguisher in front of the passenger seat but I'm thinking on removing the passenger seat for track days (as it's 25# of non-productive weight) and just bolting in the additional fire extinguisher. I have aluminum material for the main bracket, and a shaped, plastic piece that the extinguisher came with (the wall mount piece). I can use both the aluminum and plastic to make the basic mount, but the over-center quick release strap is missing, so I need to come up with something sturdy, but something I can loosen up damn fast in an emergency. I need some ideas (short of going out and buying an additional extinguisher just to get the strap). What might work?

Thanks.
| | |
| --- | --- |
| GT6Steve | 05-23-2014 07:45 PM |
---
I did my first one with two stout springs and some scrap aluminum. I kinda modelled it on a destaco over center clamp. It worked in the racer for several years and was only retired for a piped in system. I've probably got it in a drawer somewhere, maybe I can get a pic.
| | |
| --- | --- |
| phantomjock | 05-23-2014 11:04 PM |
---
I've been looking at these on 'flea-bay"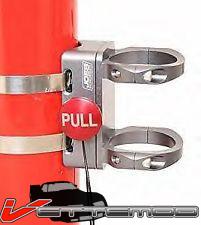 TIG a simple bracket/shoe assembly with both male and female "fittings" add a pair of large hose clamps and a fast-pin? The aluminum ring mounts they're showing could also be hose clamps for your cage.
Cheers - Jim
| | |
| --- | --- |
| JPhil | 05-24-2014 05:49 AM |
---
Have you tried going to a fire extinguisher & suppression system company? I know the one in the city I work in has all kinds of equipment related to them, including mounting brackets & other stuff. They may well have something that will work for you.

Keep in mind too that your typical little 12" tall household size extinguisher has only about 5 or 6 seconds worth of powder in it. That ain't much, especially if you're excited or panicky or the fire has gotten someplace hard to reach, like back in the transmission tunnel..
All times are GMT. The time now is

12:03 PM

.
Powered by vBulletin® Version 3.8.5
Copyright ©2000 - 2020, Jelsoft Enterprises Ltd.