-
Projects
(
http://www.vettemod.com/forum/forumdisplay.php?f=3
)
- -
1958 MGA Coupe
(
http://www.vettemod.com/forum/showthread.php?t=8335
)
| | |
| --- | --- |
| bobs77vet | 05-24-2012 03:55 PM |
---
1958 MGA Coupe

something new has found its way in the garage....follow along as we eat the elephant one bite at a time....hasnt run in over 27 yrs....heres the deal we bought it from a 79 yr old gentleman who bought the car in 1985 from a neighbors yard, he had restored one in 1965 and was going to restore this one but never got around to it....he did buy new bumpers, leather seat kit, all new rear and front glass, complete carpet set, deluxe panel set, headliner and complete rubber kit all of which is in good shape and it came with an extra MGA transmission and extra Triumph spitfire: engine, trans and set of seats...
work done to date....shovelled out crap from car, hosed down interior and exterior, pulled out center wooden floors,vaccumed car,oild windows and made them crank up and down, took out spark plugs and put 4ozs of auto trans fluid in each cylinder. oiled up valve train.....the oil in engine is clean and the oil in trans is clean, this is a good sign.... also unpacked all boxes of parts and they all look good the interior panel kit and upholstery looks fine....waiting for a sunny day to air it all out.
the accomplices.....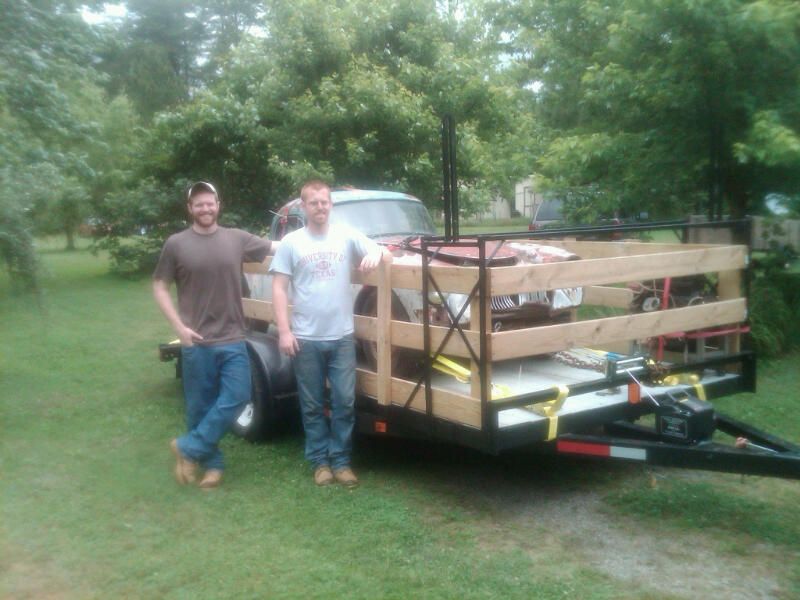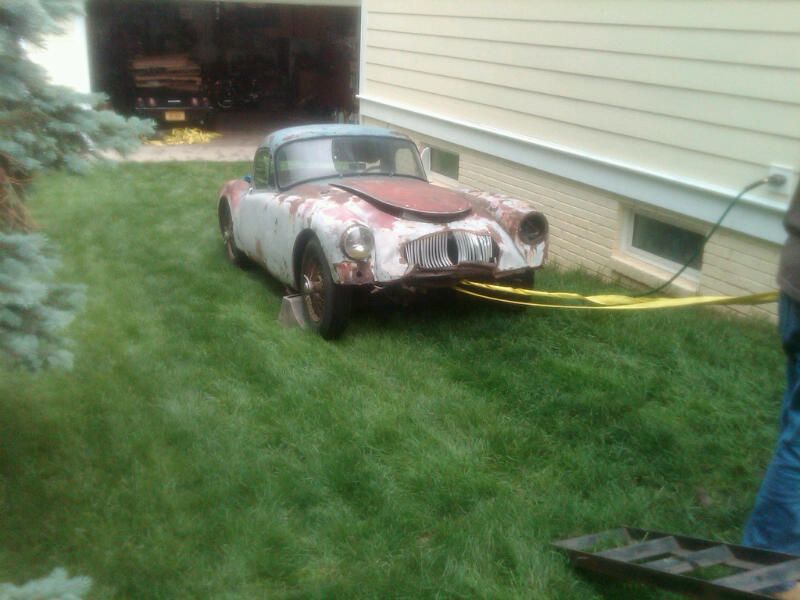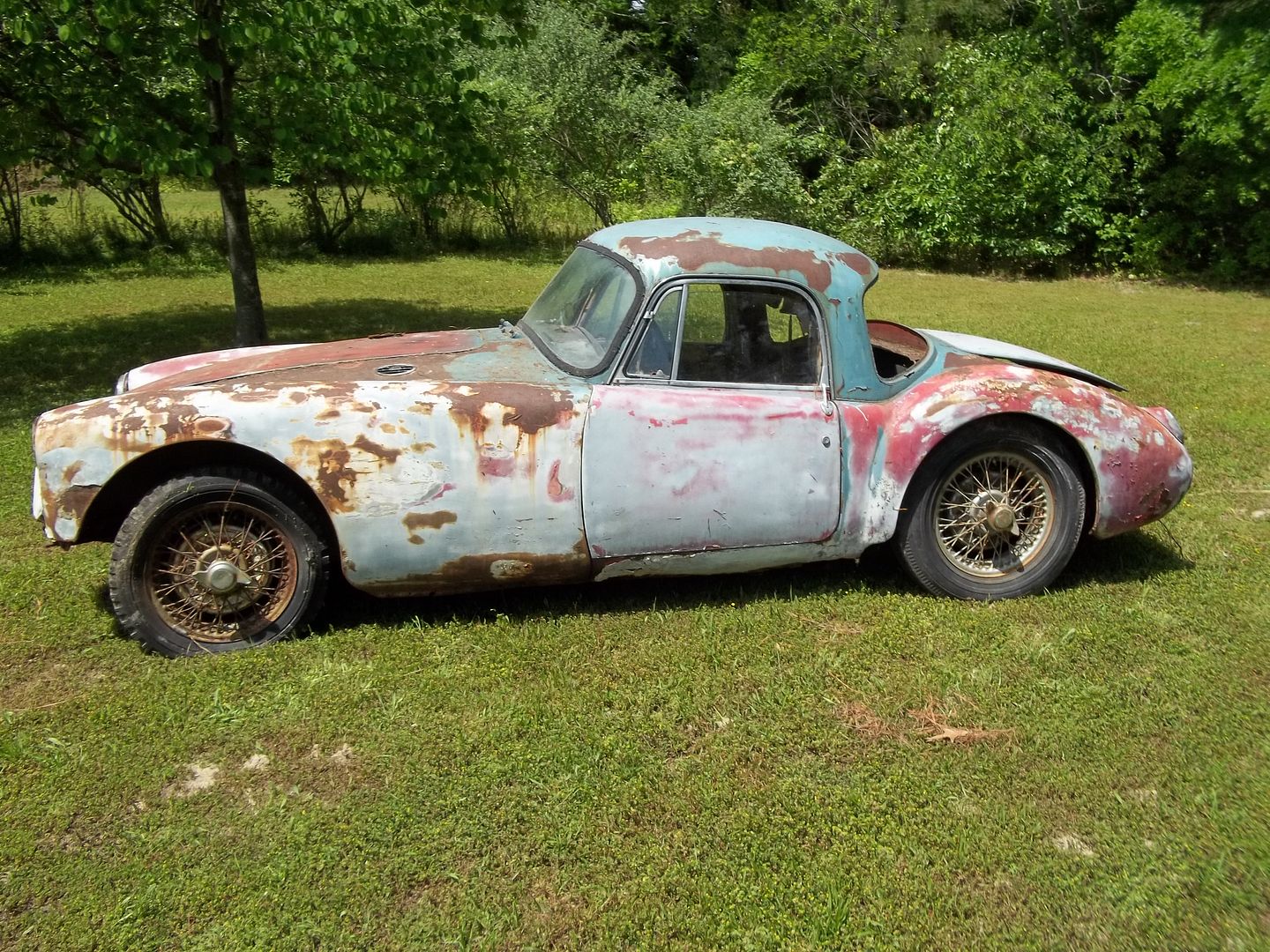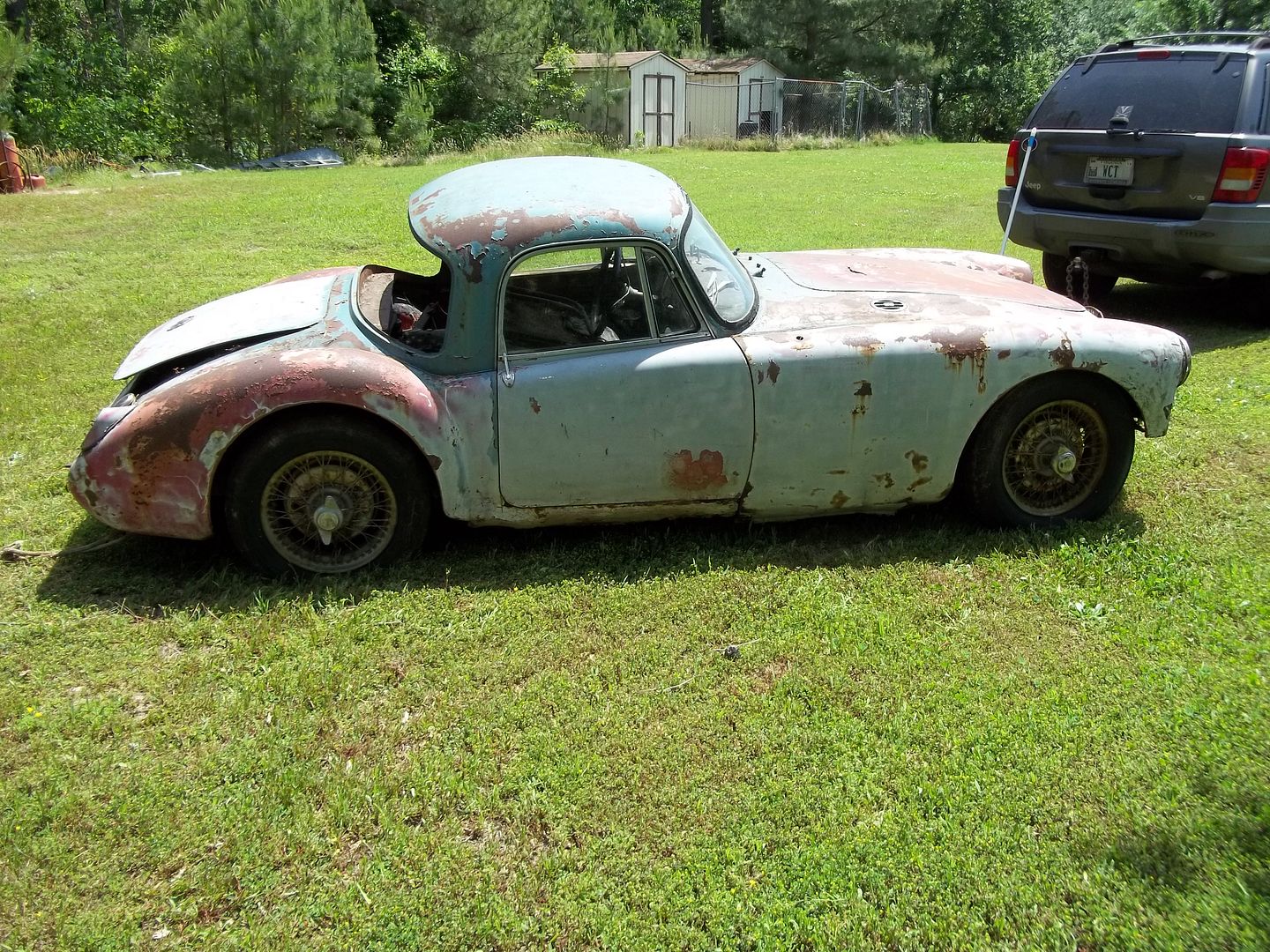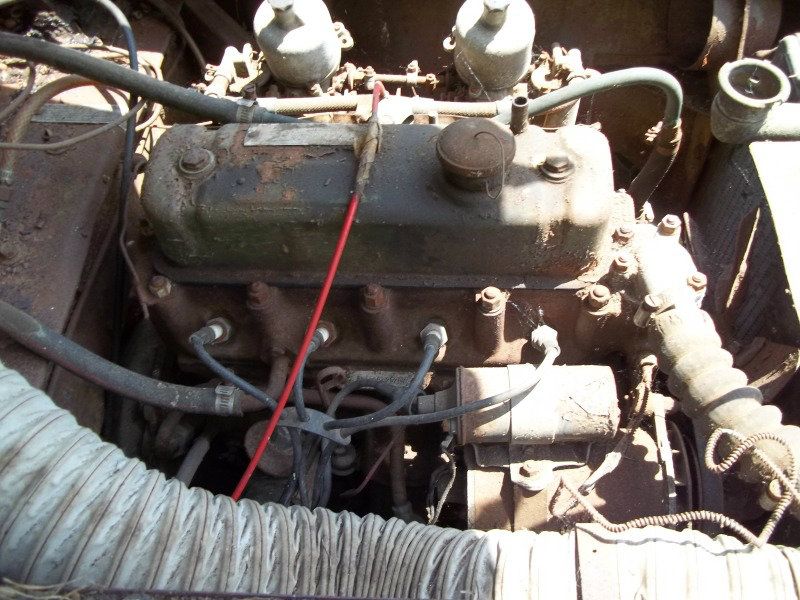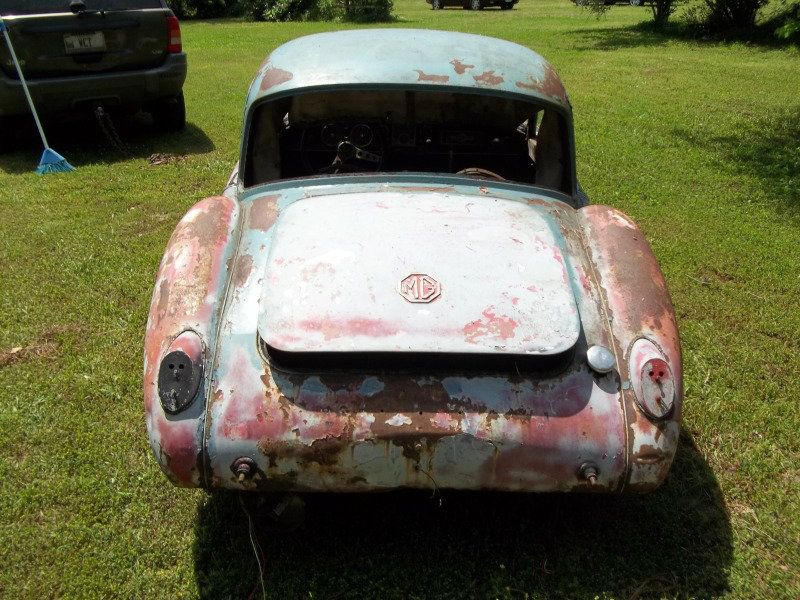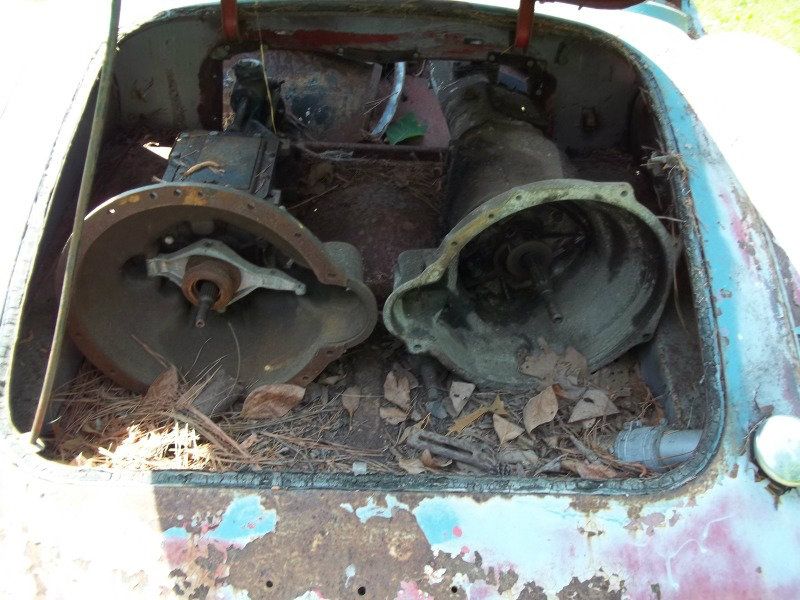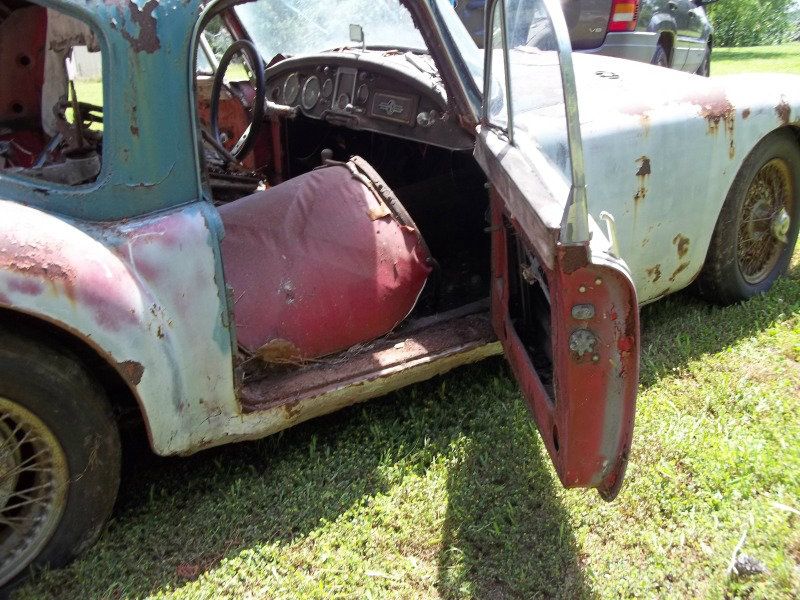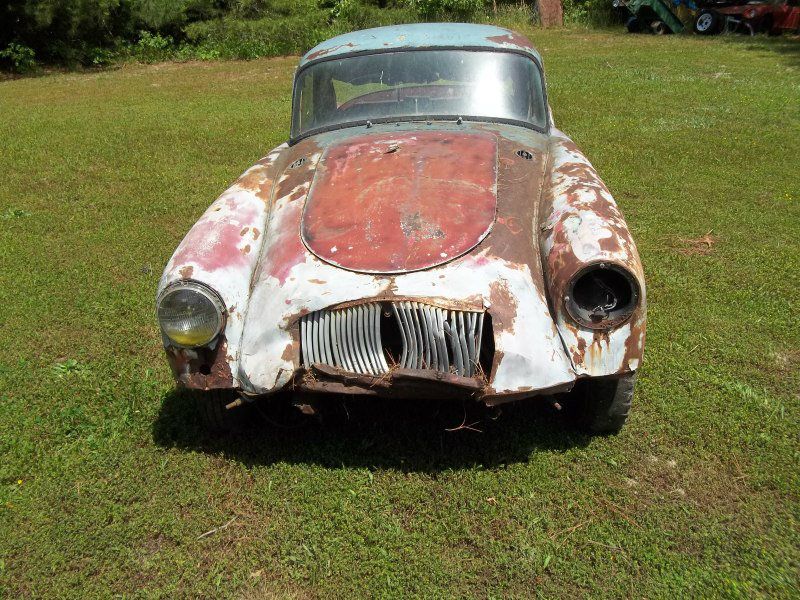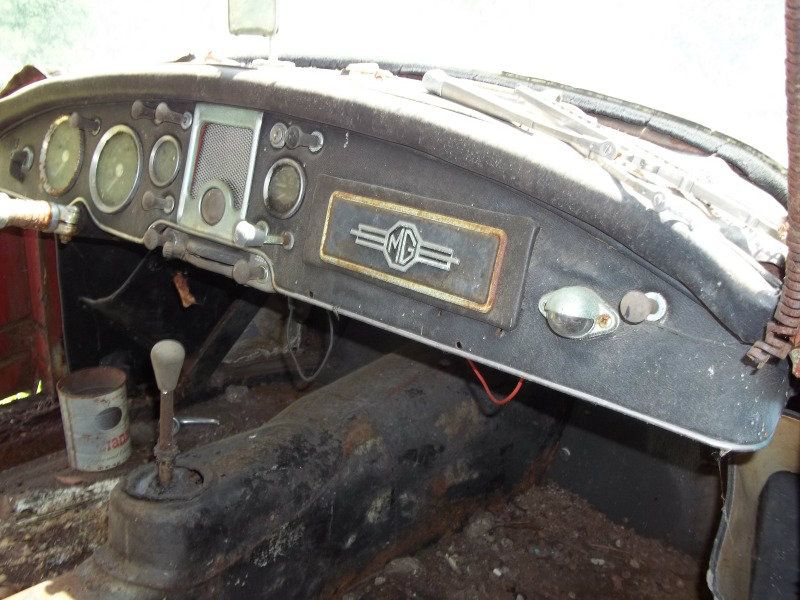 [/quote]
---
I love those things. Someday...
| | |
| --- | --- |
| Sam Cogley | 05-24-2012 07:19 PM |
---
Looks like you have a bit of sheet metal work ahead of you...
| | |
| --- | --- |
| mrvette | 05-24-2012 07:40 PM |
---
NO question you think I full of crap, but seeing that old car I just discovered a OLD ash tray from decades ago, under a bunch of papers on my desk here....every thing from beer down to house taxes and shit....

so this AM I found that knockoff and so set it up on the rear edge of the desk, then I spot this thread.....

not knowing WHAT car is came from anymore, I just let it set, no biggie...not tossing it, has age and character that rivals a Shakespeare play....

then YOU have to post this thread, and remind my old ass with the photograph of the RIGHT side of the car....and this knock off is shaped IDENTICAL to your pix there.... hold it up by one ear, and the writing around the hub says....UNDO---> then UNDO and under that is said RIGHT SIDE

I have had this since forever, maybe 40 years +-.....

:harhar::shocking::beer::beer:
| | |
| --- | --- |
| GT6Steve | 05-24-2012 11:26 PM |
---
Clearly a knockoff hub such as on my Jags. US spec as it says right side because the Brit cars said nearside and offside. I'd suspect it's from a later car because the early ones said nothing, you were supposed to know!:rofl:
| | |
| --- | --- |
| JPhil | 05-25-2012 02:27 AM |
---
I just gotta ask--

The MGA roadsters had no outside door handles or roll up windows. Snap in sidecurtains or tonneau cover, with a pull cable door latch release only operable from the inside--You had to unsnap the tonneau cover or sidecurtains and reach down inside to open the door. I don't see outside door handles on this coupe! How do you open the doors if the windows are up??

I did see a MGA coupe in high school ( when I had my Austin Healy) but never got a chance to meet it (him). It allegedly had a 283 SBC in it. And as I remember, I think it really did. A good buddy of mine had a 62 MGA roadster (with horizontal taillites & drop grill) and we cruised together a lot....

Man, a lot of work ahead, but a very cool and unique car.

The map light on the right and the push pump windshield squirter sure bring smiles to my face. I used to twist the squirter nozzles to the side and spray people at stoplights.......

I think the second ever model car I built was an MGA, bought for 75 cents or so of hard earned money down at the little corner grocery....Alongside the groceries & household sundries, Mr. Grant always had a few feet of shelf space for kites, paper dolls, balsawood airplanes, plastic jewelry and a few model cars. He payed me 25 cents to sweep once a week and $1.00 to scoop the snow from his sidewalk and the old widow lady's walk next door.....
| | |
| --- | --- |
| Sam Cogley | 05-25-2012 02:30 AM |
---
Are those little vertical things above the door locks the door handles?
| | |
| --- | --- |
| 1Michel | 05-25-2012 02:44 AM |
---
cool project,
back to original like this ?
[Only registered and activated users can see links. Click Here To Register...]
A little hot rod maybe???
what are the plans for it?
I'll be following it.
Hummm, my 1000th post,
| | |
| --- | --- |
| MYBAD79 | 05-25-2012 05:06 AM |
---
I like it (although it is British).... But I have to say, judging by the photos it appears it takes some giant size ballz to take on this project :clap:
This is not going to be easy :D
| | |
| --- | --- |
| BBShark | 05-25-2012 11:30 AM |
---
Here is a MGA build, might be some inspiration for ya.
[Only registered and activated users can see links. Click Here To Register...]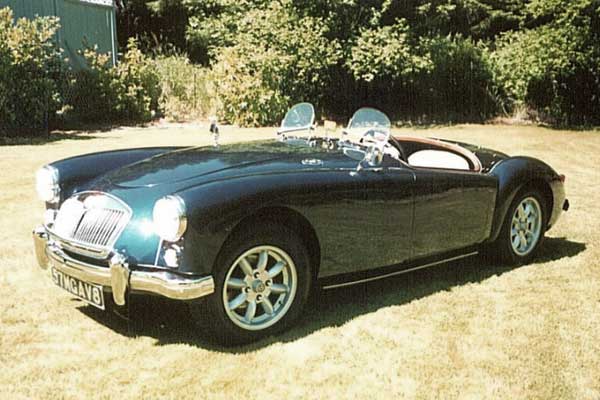 All times are GMT. The time now is

02:26 PM

.
Powered by vBulletin® Version 3.8.5
Copyright ©2000 - 2019, Jelsoft Enterprises Ltd.